10 Best Resume Tips To Help You Get Hired
It can be difficult to create a resume that is professional, accurately sums up your experience and qualifications, and convinces employers that you are the best candidate for the job. Fortunately, this article will cover 10 of the best resume tips to help you create a compelling resume that will in turn help you score interviews and ultimately get hired.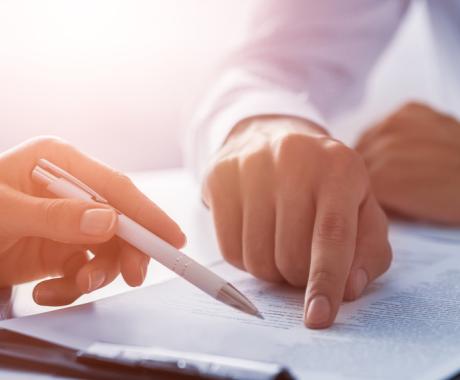 1. Target Your Resume to Each Job Posting
While it's tempting to save time by creating one generic resume and submitting it with every job application that you send off, this strategy is unlikely to yield desirable results. Most hiring managers can tell immediately that you haven't taken the time to customize your resume to the specific job opening, and they might immediately reject your application on that basis alone.
Instead, take the time to tailor your resume to each job opening. To do this, read the listing carefully to identify keywords that describe exactly what the employer is looking for in a candidate, and then use all of the keywords that apply to you in your resume.
Tailoring your resume will show the employer that you took the time to read the job description and customize your resume, and that you are taking the job application process seriously.
2. Use a Professional Font and Color Scheme
There are some instances where you may benefit from submitting a creative resume with bright colors and interesting fonts. However, in most cases, you'll want to stick with simple, professional fonts and muted colors. Make sure your resume text is dark enough and large enough to be easily readable, and, if you choose to use colors, limit them to your header and headings. Avoid neon colors or anything too loud and distracting.
3. Use Active Language
Use active language in your resume summary or objective and your bullet points. Passive language can make your achievements sound less impressive, as if your career is something that has just happened to you rather than something you created for yourself. Using active language and power verbs will enliven your resume and help keep your information succinct.
4. Keep It Short
Your resume should be no longer than one page if you have less than 10 years of professional experience or two pages if you have more experience than that. The only exception would be if you are asked to submit a North American curriculum vitae (CV), which is normally only used in academics. This type of document will outline your entire educational and professional history and can therefore be several pages long.
5. Only Include Relevant Information
In order to keep your resume to one or two pages long, you will likely need to narrow down your experience and qualifications to only the most relevant. Especially if you have a lot of work experience over many years and across multiple industries, you will likely want to focus only on your past positions that are relevant to the position that you are applying for.
It's also a good idea to list your most relevant information first. Most employers will quickly scan your resume, so you want your most impressive and pertinent details to be what they see first. Of course, when you tailor your resume to each job opening, you will be selecting details that are relevant to the position you are applying for.
6. Use Headings and Bullet Points
Since hiring managers only spend a few seconds scanning each resume they receive, it's important to keep your resume organized and easy to read quickly. Use headings, subheadings, and bullet points to break up the text on your resume into short, consumable sections. The only section of your resume that should resemble a paragraph is your resume summary or objective.
7. Quantify Important Achievements
When adding bullet points beneath your past positions, avoid simply listing your job duties as the hiring manager likely already knows generally what you did from your job title. Instead, use the bullet points to mention your achievements in past roles in order to show potential employers how you have applied your skills and experience in specific situations.
Whenever possible, use numbers and data to quantify your achievements. For example, instead of writing that you "increased revenue significantly" you might write that you "implemented new sales strategies to increase revenue by 75% in 6 months."
8. Choose The Best Resume Format
The reverse chronological resume format is the most popular and the most effective in the majority of cases. With this format, you will list each of your past positions and educational details with the current or most recent ones at the top of the list and then work backwards in time from there.
However, if you don't feel that this format accurately represents your skills and qualifications, you may wish to use one of the other two resume formats: functional or combination.
A functional resume focuses on your skills over your work experience and typically does not include dates with your past job titles. This can be helpful to gloss over gaps in your employment history or simply to highlight your skills as the focal point of your resume.
A combination resume uses elements of both reverse chronological and functional resumes, and is generally only used if you are applying to a very specialized position that has significant skill and experience requirements.
Expert Tip
Unless you have a specific reason to use a functional or combination resume format, it's likely best to use a reverse chronological format. Hiring managers usually prefer this format, and it's the most likely to pass an applicant tracking system (ATS) scan.
9. Include Professional, Accurate Contact Information
Be sure that you have included your contact information on your resume, or else the employer won't be able to contact you to offer you an interview. Include your full name, your phone number, a professional email address (not a silly one you made in high school), and your LinkedIn URL. You can also include your address if you wish, or more general location information such as your city and state or the region that you live in. If you have a professional website or an online portfolio you can also include those links with your contact information.
10. Proofread and Edit Your Resume Carefully
Finally, be sure to proofread and edit your resume very carefully before you submit it, checking for spelling and grammar errors as well as inaccuracies. You might find that it's easier to print out your resume and check over the hard copy. If proofreading isn't your strong suit, you may want to enlist the help of a trusted friend or family member to check over your resume for you. Nothing is more unprofessional than submitting a resume that has spelling or grammar errors.
Key Takeaways
Creating an effective resume requires a lot of effort and consideration, so be sure to make your resume the best that it can possibly be by following these 10 resume tips. Keep your resume short, powerful, and relevant and highlight your experience, skills, and education to show potential employers that you are the best fit for the position.
Not sure how to turn these tips into a polished resume? Start with Jobseeker's professional resume creation tool - you can simply enter in your information, choose from a library of templates, adjust the fonts and color scheme, and download your finished resume instantly!