Should You Use a Resume Builder?
There are four main ways to create a resume: by creating your own resume from scratch, by using a template to create your own resume, by using a resume builder, or by having a resume professionally written for you. This article will cover the pros and cons of each method to help you decide which one is best for you.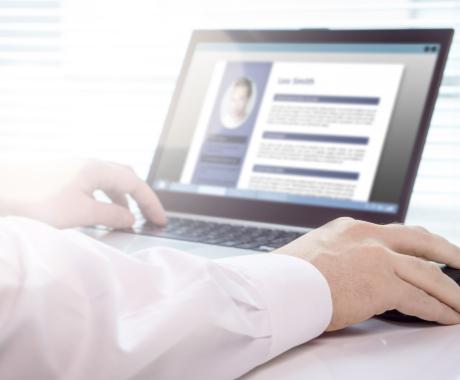 Creating Your Own Resume From Scratch
You can create your own resume from scratch using a word processor like Google Docs or Microsoft Word, or by using a design program like Illustrator or InDesign. This requires some knowledge of what sections should be on a resume, how to format a resume, and aesthetics when you are choosing fonts, styles, colors, and so forth.
Pros
When you create your own resume, you have complete creative control and you can be sure that your resume is unique. You can arrange the document exactly how you like it and include only the sections that you need, and it's free to use Google Docs.
Cons
Creating your own resume from scratch requires expertise with whatever program you choose to use and knowledge of what should go on a resume as well as how to arrange it effectively. It can be difficult and time-consuming to get the document set up how you want it. You won't have any prompts for what information to input where, as you would with a template or a resume builder. Microsoft Word as well as many design programs require paid subscriptions, so unless you already have the program, there will be a cost associated.
Using a Resume Template
Another option is to use a resume template, such as the ones provided by Microsoft Word and Google Docs, or those available for download from the internet. These templates will give you basic prompts as to what information goes where, but they aren't very customizable and it can be obvious to hiring managers that you've used a template. There are some free options as well as paid downloads.
Pros
This is another free or low-cost option, and you have a framework to help you get started. If formatting a resume isn't in your wheelhouse, you can skip over that step and simply enter your information into a template.
Cons
The free options from Microsoft Word and Google Docs are limited, and therefore are easily recognized by hiring managers who have used the programs and receive dozens of resumes every day.
Using a Resume Builder
A resume builder is a tool that allows you to choose from a wider variety of templates, select the specific sections that you want to include on your resume, adjust the color scheme and fonts, and generally have more creative control.
A resume builder will likely provide prompts, questions, and tips to help you craft the most powerful, effective resume you can.
Some resume builders are free while others are paid, although paid resume builders typically offer more resources, such as job search functionality, job application management, cover letter creation services, and so forth.
Expert Tip
Beyond using the available customization options to create a unique resume that reflects your style and personality, be sure to tailor your resume for each job that you apply for. This step alone can drastically increase your chances of scoring interviews and getting hired.
Pros
A resume builder typically offers more options as far as the design of your resume and gives you more creative control through customization options. Using a resume builder is usually either free or inexpensive - and you generally have access to additional job application services for a fraction of the cost of a professionally written resume.
Cons
If you don't take advantage of any of the creative controls within a resume builder, your resume can look generic.
Having a Resume Professionally Written
Finally, you can opt to hire a professional resume writer to create the document for you. The resume writer will likely interview you to get all of the necessary information and so they can create a resume that accurately reflects your experience, skills, and personality.
While a professionally written resume will likely look very polished and clean, it's important to note that many professional resume creators still use templates. So, depending on how many clients they have, there could be dozens of other professional resumes out there that look just like yours.
Pros
A professional resume writer knows what questions to ask to obtain the most flattering but accurate information about your professional history, and how to present this information in a document that is ATS-optimized. A professional will also have their finger on the pulse of resume trends, hiring practices, and the whole job application industry.
Cons
Hiring a professional to create a resume for you can be extremely expensive - typical fees are between $100-$400 but some services can be as much as $2,000. And, if the resume writer uses a template, you are essentially just paying someone to fill in a template on your behalf. But, you'll still have to spend time providing your information to the professional, either in writing or via interview.
Key Takeaways
The four main ways to make a resume are to create your own from scratch, use a template, use a resume builder service, or to hire a professional to create a resume for you. Each method has its own pros and cons, and it all comes down to how much time, effort, and/or money you want to invest as well as how unique and professional you want your resume to be.
If you've decided that a resume builder is the best option for you, consider Jobseeker's professional resume creation tool. It allows you to choose from a library of style resume templates, select your own color scheme and fonts, choose which sections to include and in what order, and try out different layouts. Then, download your polished resume instantly. You can also create a coordinating cover letter, find and apply for jobs, and manage all of your applications in one place.