How To Write an Eye-Catching Resume Headline
A resume headline is an important component that provides a brief but powerful first impression and helps convince the hiring manager to continue reading the rest of your resume. A good resume headline is easy to write and very impactful.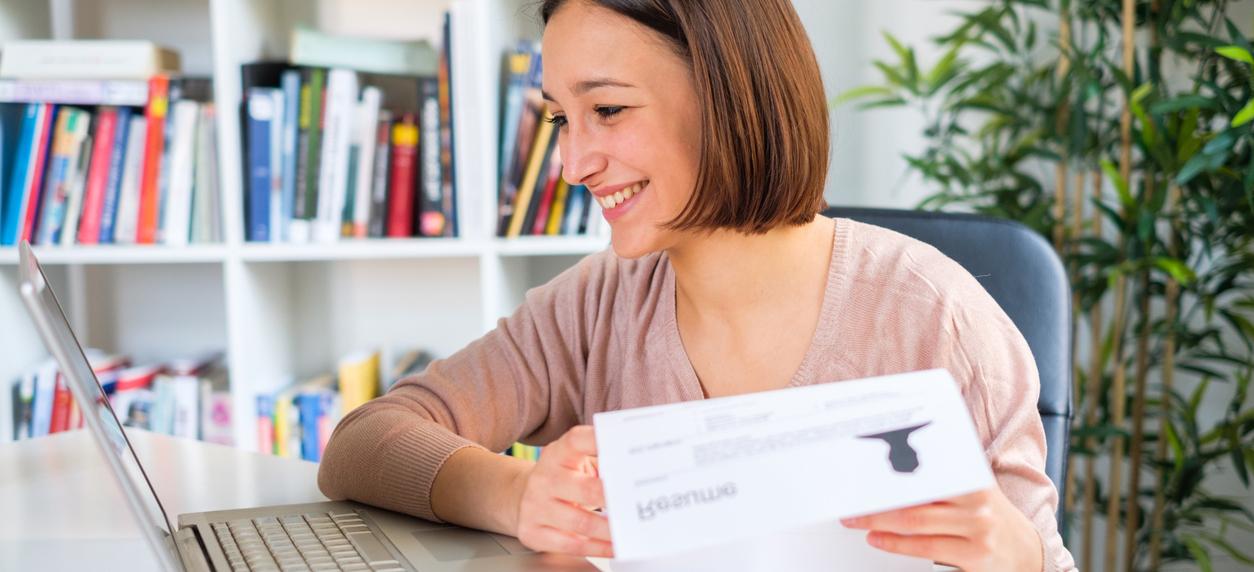 This article will cover what exactly a resume headline is, whether you should include one, how to craft an excellent headline, and several examples to help you get started.
What is a Resume Headline?
Resume headlines are also sometimes called resume titles or taglines. It goes at the top of your resume, just under your header (i.e. your name). Your headline will generally include your current or most recent job title if you have one, or otherwise succinctly explain your status - you might say that you are a student, recent graduate, or armed forces veteran in place of a typical job title.
A stellar resume headline will be phrased in such a way that it not only sums up your work experience but it also includes your achievements, certifications, and positive traits. Your resume headline can also be incorporated into your resume summary statement, serving as a heading for that section.
Should You Include a Resume Headline?
A resume headline can benefit almost anyone. It immediately points out your value and helps to focus your entire resume. If you have little or no work experience to show, a resume headline allows you to highlight a big achievement like earning a military medal or winning a prestigious scholarship. You can also use your headline to showcase your skills or character traits that make you a good fit for the job.
Resume headlines are also beneficial for those with some or extensive professional experience, as it narrows your entire career down into a single punchy sentence.
Most hiring managers only spend a few seconds looking at each resume, so use a resume headline to catch their attention immediately rather than hope that they read through years' worth of experience - chances are they'll just see a huge block of text and their eyes will glaze over.
Plus, many employers use applicant tracking system (ATS) software, which means that your resume first has to pass a robotic scan before a human hiring manager even lays eyes on it. Including a resume headline with keywords from the job listing will increase the chances that your resume will check the ATS's boxes for experience, skills, and past job titles.
The only reason not to include a resume headline would be if you absolutely cannot fit your resume onto a single page unless you omit the headline. In almost any other case, a well-crafted resume headline will serve you well.
Tips For Writing Your Resume Headline
Writing a powerful resume headline might seem daunting, especially if you aren't a wordsmith. Here are some tips to help you get started:
Keep Your Headline Short
You want potential employers to easily remember you, so the shorter your headline is, the better. Keep it to a single sentence - or better yet, just one powerful phrase. Remember, you can elaborate more in your resume summary or resume objective.
Place It At The Top
As mentioned above, place your resume headline at the top, just under your name and contact information. That way there's less of a chance that the hiring manager will skim over it and when it grabs their attention, they'll keep reading rather than flipping to the next resume in the stack.
Use Keywords From The Job Listing
Most job listings outline the skills and experience that they desire in a candidate, so use these as keywords for your resume headline. For example, if the employer is seeking a high school teacher with ESL experience, include those exact specifics in your headline.
Use Title Case
Since this is a headline, it should be written in title case with the first word as well as all nouns, verbs, and adjectives capitalized.
Expert Tip
Proper title case capitalization makes your headline look authoritative and impactful. If you aren't sure about which words to capitalize in your resume headline, use an online tool to be sure you get it right.
Use Standard Job Title Language
Recently, employers have started using more creative job titles than in the past, which can cause some confusion about what it is that you actually do. In that case, you can reword your official job title, so long as it's still true and accurate. For example, if your official title is 'client success agent,' consider clarifying that to 'customer service representative.' This will help your resume pass the ATS scan and prevent bewilderment for hiring managers.
Include Quantifiable Experience, Accomplishments, or Statistics
Potential employers love to see quantified proof of your experience and professional accomplishments, so work that into your resume headline if possible. This could be anything from stating how many years of experience you have to sharing the percentage by which you grew a company's revenue or that you are the two-time recipient of a relevant award.
Throw In a Few Soft Skills
If you have the space, add in a few applicable soft skills, like adaptability, leadership ability, or communication expertise.
Avoid Cliches and Jargon
Finally, stay away from cliches and jargon like 'highly motivated or 'skilled.' These words are generic and broad, and won't provide any valuable information to the potential employer. Instead, demonstrate your motivation and skills with your quantified accomplishments.
Resume Headline Examples
Here are some resume headline examples to inspire you:
Award-Winning Photographer with 200+ Images Published Digitally and in Print
Decorated Army Veteran with 10 Years of Leadership Experience
Graduate Engineering Student and Recipient of XYZ Scholarship
Efficient Administrative Assistant with Extensive Office Software Expertise
Top-Grossing Vehicle Sales Manager
Bilingual Call Center Associate with 6 Years of Experience
Honors Biology Student and XYZ Lab Intern
Recently Graduated RN with Emergency Clinical Intern Experience
Key Takeaways
A hiring manager will probably only glance at your resume for a few seconds, and a resume headline is an effective way to grab their attention and encourage them to continue reading the rest of your resume. Your headline should highlight your experience, education, certifications, accomplishments, skills, and/or personality traits in a way that makes it immediately obvious to the hiring manager that you are the right person for the job.
Need help crafting the perfect resume? Jobseeker offers a professional resume creation tool that allows you to enter in your details, choose from a library of polished resume templates, customize your font and color scheme, and instantly download your resume so you can start applying for jobs immediately!