CV vs Resume: Definitions and Key Differences
Sometimes the words 'resume' and 'CV' (or its unabbreviated form, 'curriculum vitae') are used seemingly interchangeably, which can lead to confusion. In fact, CVs and resumes are different types of documents with specific purposes.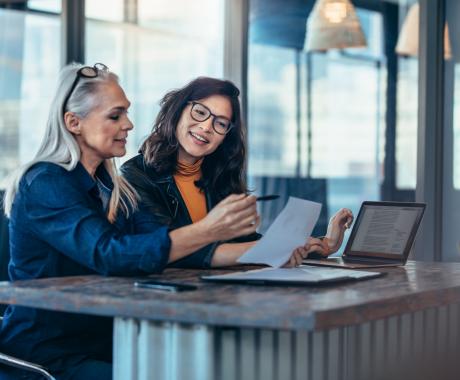 It's important to note that there are geographical differences when it comes to referring to CVs and resumes around the world, and for the purpose of this article, we will be generally focusing on the American/Canadian definition of the words.
This article will outline the definitions of both CVs and resumes and highlight the key differences between the two.
What is a CV?
'CV' is an abbreviation for 'curriculum vitae,' which means "course of life" in Latin. A CV is a comprehensive document that lists the entirety of your academic and professional achievements. This detailed summary has no standard length, though CVs commonly range from three to ten (or more) pages long.
In the United States and Canada, CVs are used almost exclusively for applying to academic jobs.
What To Include on a CV
When writing a CV for an academic position in the U.S. or Canada, you will likely want to include the following:
Name and contact information
Personal profile or research objective
Professional academic positions (work experience)
Books and/or chapters of books that you've written
Peer-reviewed publications
Other publications
Academic awards and honors
Grants and fellowships
Conferences that you've attended
Teaching experience
Research/lab/fieldwork experience
Memberships
Non-academic activities
A CV will be universal and can be submitted as-is to all potential employers. When you have a new achievement, simply add it to your existing CV. Most CVs are written in reverse-chronological order, with your most recent degrees or accomplishments listed first and working backwards from there.
What is a Resume?
A resume, on the other hand, is a much shorter, more specific document that is used for all other types of job applications in the United States and Canada. 'Resume' is also sometimes spelled 'résumé' which is French for "to sum up." A resume is designed to provide a quick overview of your work history, education, and skills as they relate specifically to the job that you are applying for. Resumes are typically only one to two pages long and use bullet points to succinctly present your skills and accomplishments.
What To Include on a Resume
An American or Canadian resume should include:
Your name and contact information
Resume summary or resume objective
Work experience
Education
Hard and soft skills
Optional resume sections (awards and honors, languages, licenses and certifications, hobbies and interests, etc.)
Expert Tip
A resume should be targeted to each position that you apply for. Use the company's name and the exact title of the position that you are applying for in your resume summary or objective, and include only information that is directly relevant to the position. Use keywords and phrases from the job description to show that you are a good fit for the job.
There are three main formats for resumes: reverse-chronological, functional, and combination. However, reverse-chronological resumes are the most common and generally the most effective.
CV vs Resume: Key Differences
So, the main differences between CVs and resumes are the length and the career industry for which they are used.
Length
CVs can be any length, and are often much longer than a resume. They should include every aspect of your education and academic work, which, for a very experienced candidate, can mean a document that is 10 pages long or more.
A resume should generally be limited to a single page for students, recent graduates, and professionals who have less than 10 years of experience in their industry. Those who have more than 10 years of experience or are applying to a high-level position might have a two- or three-page resume.
Career Industry
In the United States and Canada, CVs are generally only used by those who are applying to positions in academia. Shorter resumes are used by job candidates in all other fields.
International Definitions
As mentioned above, this article has so far focused on the American and Canadian definitions of CVs and resumes, but other countries around the world have their own meanings for these words and customs regarding the document that should be submitted for a job application:
Europe and New Zealand
The word 'resume' isn't used at all, but 'CV' is used to describe the equivalent of an American resume - a short document that highlights your experience, education, and skills. CVs are used to apply to jobs in any industry.
Australia and South Africa
'CV' and 'resume' are synonymous and are used interchangeably to describe a short document that is generally equivalent to an American or Canadian resume.
South Asia
In some South Asian countries like India and Bangladesh, it's common to include your biodata with your resume information, which refers to personal statistics such as your date of birth, gender, race and/or ethnicity, salary information, and marital status.
This type of personal information should not be included on resumes or CVs in most of the rest of the world, since there are strict anti-discrimination laws in place. If an employer sees that type of information, they may automatically discard your application to avoid any potential discrimination concerns.
Key Takeaways
In the United States and Canada, a CV is a long, comprehensive summary of your entire academic and professional history that is used solely by those applying to academic positions. A resume, on the other hand, is a short summary of your work experience, education, skills, and achievements that is used by essentially all other industries. However, in some other countries around the world, the term 'CV' is used interchangeably with or in place of the word 'resume.'
Not sure how to format your resume or CV? Jobseeker offers a professional resume creation tool as well as a professional CV creation tool. You can simply enter your information, select a template that you like, adjust the colors and fonts, and then download your polished resume or CV instantly!