Tailoring your CV to the job description
When it comes to job applications, quality is better than quantity. Many candidates use the same generic CV to apply to as many jobs as possible in the hope that at least one employer will respond. But this approach makes you look unfocused and also gives the impression that you don't care about the job you're applying for. To ensure that your CV will pass ATS (Applicant Tracking Systems), you need to make sure that your CV is tailored to each job application.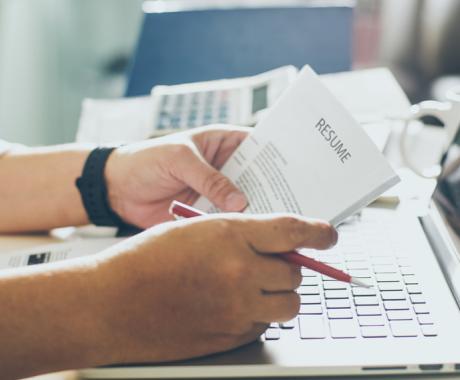 Your CV is an opportunity to sell yourself. Tailoring your CV for each vacancy sounds like a lot of time and effort; however, by highlighting only relevant skills and qualities, you help recruiters quickly identify why you're a suitable candidate and reduce the possibility of your CV landing in the bin.
Tailoring your CV
Start by creating a basic CV that you can tweak for each job you're applying for, so you won't have to waste time creating a new CV for each application. You can easily do this using the resume templates of Jobseeker.
Include your work experience, education, skills, competencies, certifications, and any volunteering activities. You can then remove or add information, as required.
Read the job description carefully
This can't be stressed enough. To truly understand what the employer is looking for, read the job description thoroughly and pick out keywords and phrases that you could include in your CV. For example, if you're applying for a content writer position where writing and proofreading skills are required, you could mention how you wrote articles for your previous company's newsletter and proofread your colleagues' e-mails.
Speak your company's language
It's vital to speak your company's language when tailoring your CV, especially when listing job titles. This is not as easy as it sounds. Often, comparable positions can have different titles at different companies which can confuse employers. To avoid confusion, it's best to refer to the title included in the job description, in your CV.
For example, if your job title at your previous or current company is Communications Executive and you're applying for a PR Manager role, it's a good idea to update your job title to PR Manager in your CV. This avoids potential confusion and lets your prospective employer know that you have previous experience of working in a similar job.
Researching the company's websites, blogs, social media pages and reviews such as Glassdoor or Indeed can also help you get a feel for the language used by the company.
Compile a list of essential skills and personal traits
Once you've conducted your research, compile a list of essential skills and personal traits that your prospective employer is looking for. Then, try to incorporate these throughout your CV, especially in the 'Work Experience' and 'Skills' sections of your CV.
You may find that you need to emphasise relevant experiences and skills more than others, so recruiters can immediately see whether you have the right skills for the positions. This might involve removing irrelevant hobbies and interests from your CV, and adding key skills.
However, be careful not to remove too much information from your CV as doing so could raise questions about why there are gaps in your CV.
Also, if you've only briefly mentioned an essential skill or personal trait in your CV, you'll need to provide further details.
Tailor your personal statement
As your personal statement or personal profile is one of the first things that recruiters will read, you'll also need to tailor it to the job description alongside other sections in your CV (work experience, skills, volunteering, hobbies and interests, etc).
A good personal statement contains a mix of keywords and phrases from the job description, and personal traits from the company's website which demonstrate why you're a good fit for the position and the company.
For instance, if you're applying for a recruitment consultant role at Twitter, you'll want to highlight your communication skills alongside your recruiting abilities because communication is a core value at Twitter:
As a recruitment consultant, I specialise in sourcing professionals for the social media industry. While taking responsibility for client accounts, I maintained the highest levels of communication throughout all phases of the recruitment process.
While it's important to tailor your personal statement to each job application, avoid embellishing it or including any information that isn't true. Exaggerating or outright lying in a CV is never a good idea, as you'll almost certainly be found out.
Creating a targeted CV
Another approach to tailoring your CV to the job description is to create a targeted CV. This is similar to a functional or skills-based CV. Rather than focusing on your work history, a targeted CV highlights your skills, competencies and expertise, as relevant to the job description. You can easily create a tailoired CV by using one of the resume templates provided by Jobseeker.
Targeted CVs tend to place 'Abilities' or 'Skills' and 'Achievements' sections at the top and your 'Work Experience' and 'Education' at the bottom.
In the 'Abilities' section, you would list 6-8 key skills and examples of where you applied them. For example, for a quality assurance role, you could mention the following skills:
Quality assurance — implemented quality control processes in a manufacturing environment.
Leadership — managed shift rotas for a team of 5 employees.
Analytical — analysed production reports to reduce wastage of by-products.
In the 'Achievements' section, you would list your achievements, again in bullet-point format, e.g.
Achieved a health and safety award for best practices in food manufacturing.
Increased production of crisps by 20% in 2030.
If you choose to create a targeted CV, note that you still need to mention your current and previous employers, but very briefly without referring to exact dates, as follows:
2019 - present Quality Specialist Walkers
Stand out by tailoring your CV
When you're unemployed or desperately need to find a job, it can be tempting to use the same CV to apply to as many jobs as possible. However, this approach rarely works. By taking the time to understand what the employer is looking for and tweaking your CV accordingly, you'll stand a better chance of landing an interview.