How to Include Your Phone Number on Your CV
When writing your CV, it's not just your work experience and your education sections that you need to pay attention to. You may have the perfect mix of skills, experience and accomplishments, but none of that will matter if your contact details section doesn't include the necessary information - your name, address, e-mail address and most importantly, your contact number.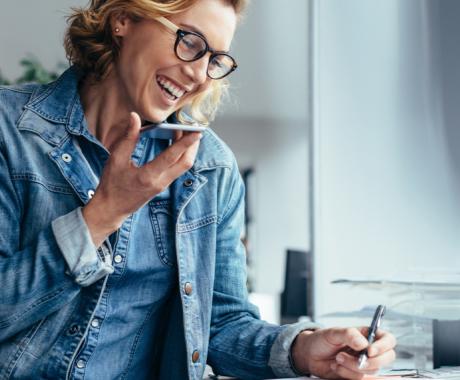 While you may prefer to be contacted by e-mail, many recruiters will want to speak to you personally, whether to clarify information or to conduct an initial phone interview. Here are some points to bear in mind.
Write your number in the correct format
The best approach to writing a phone number on your resume may differ depending on the country. To ensure clarity and avoid any potential dialing errors by recruiters, it is advisable to break down the number into smaller, easily readable segments. The most common practice is to enclose the area code in parentheses and insert a dash after the first three digits of your phone number. Alternatively, you can also separate the number using periods like this: 123.456.7890.
The right phone number can vary by country (see national conventions for writing phone numbers); however, here are a few tips:
As mobile phone numbers can be quite long, it's best to break them up, so that there's no chance of recruiters misdialling:
07911 123456 (UK)
086 123 1234 (Ireland)
021 5678 4567 (New Zealand)
06 4667 46678 (South Africa)
When including a landline number, you also need to include the area code at the beginning of your number (in brackets so that it is clear that this is the area code) and break it up as follows:
If you're located abroad or you have a foreign number, you will need to also include the international dialling code, e.g.
+44 (UK)
+ 353 (Ireland)
+ 64 (New Zealand)
+27 (South Africa)
However, you can drop the initial digital of an area code or mobile phone number when listing your number in the international format, e.g.
+44 76568 45748
Regardless of the format, it's also best practice to put a label in front of your phone number such as 'Tel:' or 'M:' (for mobile).
Use our resume templates to present your phone number in a professional manner together with other personal and professional information.
Never give out your work number
Giving out your work number to recruiters is risky as calls may be intercepted by colleagues or your current employer. If you're not quite ready to share the news that you're looking for a new job or that you're planning on leaving the company, this can make for an awkward situation.
Therefore, where possible, avoid listing your work number on your CV and include your mobile number.
Include your mobile number
While it's fine to include your landline number, a mobile phone does make you more accessible to recruiters who may work unconventional hours or need to reach you quickly.
In a competitive job market, candidates can be snapped up at a moment's notice, so if a recruiter can't reach you, they may take your lack of availability as a sign of disinterest and simply move onto the next availability market.
Of course, if you don't have a mobile phone number, then you can explain this in your cover letter and let them know when you can be reached on your landline number.
Alternatively, you could set up a Google Voice or Skype account if you don't feel comfortable giving out your phone number. The advantage of a Google Voice or Skype number is that you can answer incoming calls on multiple devices, e.g. your tablet, phone or computer.
Preparing for calls from recruiters and employers
If you've included your phone number in your CV, you can expect recruiters and employers to call you rather than send an e-mail. This is because it's a lot quicker for them to screen you over the phone than e-mailing back and forth. It's also a way for them to gauge your phone manner and get a feel for your personality.
However, if you have applied for multiple jobs, it can be hard to remember what you applied to and where. That's why it's a good idea to be prepared for calls by keeping a record of all job applications in a document that includes the job title, the company, the contact person and the stage of the application process (e.g. screening call received).
The last thing you want is to receive a call and to let on to recruiters that you've forgotten you've applied for the job.
An easier way to keep track of applications is by using an online CV builder. On Jobseeker, you can track your applications via the 'Applications' tab by adding notes and a status for each entry. This saves you from having to manually enter each job in an Excel or Word document.
Answering calls
Recruiters' calls can trigger mixed feelings. It may not be convenient to take the call if you're in a noisy environment or you may just not be prepared. If you're not too excited about the job you've applied for, the call may even trigger feelings of irritation or annoyance.
Whatever your situation, honesty is the best policy.
If you're unable to take the call at the moment, you can explain to recruiters that you'll call them back once in a quieter spot.
If the latter situation applies to you, then you can let them know that you will call them back later to discuss your application or let them know straight away that you've decided to pursue other avenues, while thanking them for the opportunity.
You never know when you'll need a recruiter, so it's best to keep your tone friendly, conversational and polite.
Record a professional voicemail message
It's natural that you won't always be available to pick up calls, especially if you are in a full-time job while job-hunting. You may not want to take calls at work to avoid being overheard by colleagues or worse still, your boss. It's also usual to screen calls if you want to avoid cold callers or prank calls.
This is perfectly understandable and most recruiters and employers will understand this. However, they will want to be reassured that they're leaving messages for the right person. Therefore, it's important to make sure that you set up a professional voicemail message which informs them who you are and when they can expect to hear from you.
In the same way as your CV and cover letter, your voicemail message should make a positive impression on recruiters. A clear and friendly voicemail greeting boosts your credibility and demonstrates your professionalism. A funny or unintelligible message, on the other hand, gives the impression that you're not to be taken seriously and could make recruiters reconsider your application.
Here are a few examples of voicemail messages for different scenarios:
General
"Hi, you've reached the voicemail of [name]. Thanks for your call. I'm unavailable to take your call right now, but if you leave a message, I'll call you back as soon as possible."
If you are working, at school or otherwise occupied
"Hi, you've reached the voicemail of [name]. Thanks for your call. I'm unavailable to take your call between the hours of 09:00 and 18:00.
If you are calling in response to a job application that I submitted, please send me an e-mail at [e-mail address] so that I can respond more quickly. Otherwise, please leave a message with your name, phone number and the name of the business that you're calling from. I will return your call during lunch or after 18:00. Thank you!"
If you've applied for multiple jobs
"Hi, you've reached the voicemail of [name]. Thanks for your call. I'm not available to take your call at the moment; however, if you leave a message with your name, phone number and the name of the business that you're calling from, I'll call you back as soon as I can."
Whichever voicemail message you decide to record, make sure that you record it in a quiet environment and that you speak clearly, especially if you have a name that may be hard to pronounce.
More importantly, make sure that you don't leave it too long to call recruiters back! Recruiters are busy people and if they don't hear back from you within a reasonable amount of time (usually 24 hours), they'll move on to the next candidate.
When calling a recruiter back, reference their missed call, but don't feel you need to explain why you weren't available to take their call unless you want to.