Tips for Creating A Video CV
Creating a video CV is a great way to stand out from the crowd. When done well, it can give potential employers a glimpse into your personality and qualities such as communication skills, warmth and humour - all the things a traditional CV can't convey. However, a video CV isn't intended to replace your traditional CV. Instead, it's all about your enthusiasm and how much passion you have for the job you're applying for. What should you pay attention to when creating a video CV? Here are some tips.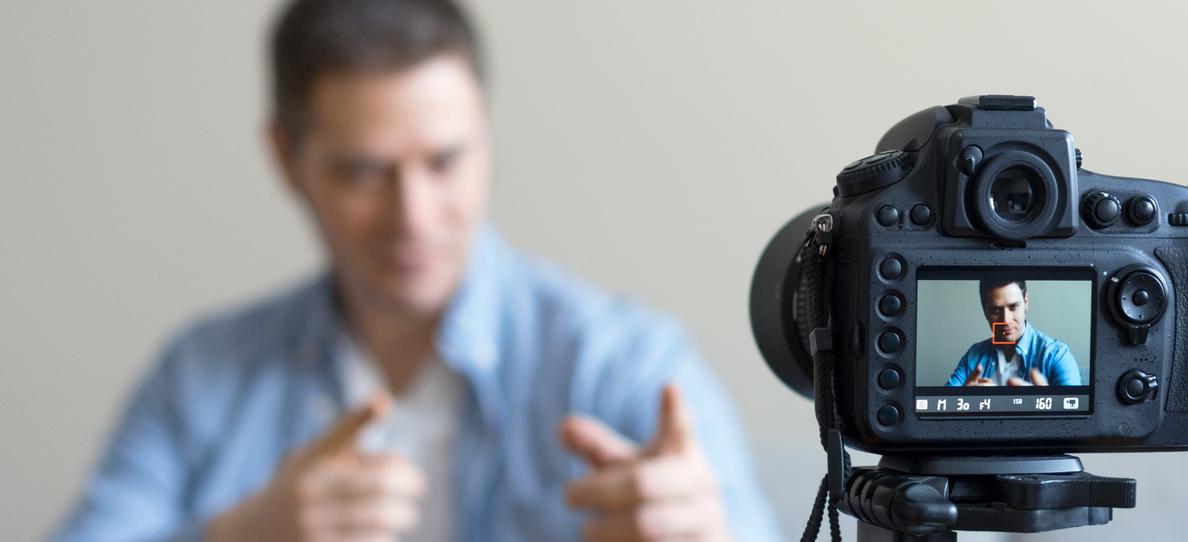 With the rapid growth of personal videos on platforms like YouTube and TikTok, more and more applicants are turning to video CVs to get themselves noticed by recruiters. These are especially welcomed in creative industries (advertising, creative arts, marketing, media, PR and sales) where the competition can be fierce. However, with more traditional sectors, such as law, accounting, banking and medicine, video CVs are not so common and may not always be appropriate.
Pros of creating a video CV
While a video CV won't be suitable for everyone, this type of CV does have a number of advantages:
It's a great way to make a lasting impression
While video CVs are increasing in popularity, they're still not as common as traditional CVs. By being one of the few applicants to send a video CV, you'll stand out from the crowd and make a lasting impression on recruiters.
A video CV demonstrates particular skills
Creating a video CV demonstrates a whole host of skills including creativity, technical skills and public speaking skills. It also highlights your ability to think outside of the box.
Spelling and writing are not your strong points
If spelling and writing are not your strong points, then a video CV may be for you. By speaking about your skills and experience, you ensure that you're not held back by spelling mistakes or the incorrect word choice.
If you have gaps in your CV, it can hard to explain those well in a traditional CV. However, in a video CV, you can provide reasons for those gaps as part of your narrative.
Cons of creating a video CV
Equally, there are a number of disadvantages to creating a video CV:
You open yourself up to discrimination
In the same way as including a photo on your CV, an employer will be able to glean personal information from your video CV such as your weight, ethnicity, gender and age – all of which could leave you open to discrimination.
You don't come across well on camera
If you don't come across well on camera, you may do your application more harm than good. Not everyone feels comfortable being in the spotlight, and that's not necessarily a bad thing.
You're unable to express succinctly
In a video CV, you have very little time to introduce yourself, your skills and experience. If you're afraid that you might leave information out, you're better off spending time perfecting your paper CV.
You don't have the editing skills
It's unlikely that you'll get your video CV right in one take. Most likely you'll have to tweak it a few times before it's good enough to send off. If you're not confident about your video-editing skills, you may want to give this type of CV a miss.
It's likely to irritate employers
As mentioned, a video CV is not suitable for every industry or position. To get a sense of whether this type of CV will be welcomed by employers, read through the job description carefully and visit the company's website. If the language used is fun and quirky, you'll know that a video CV will be well-received. If, on the other hand, the language used is formal in tone, it's best to stick to a traditional CV.
How do you create a video CV?
You don't need professional equipment to shoot your video CV. You can either use your smartphone, a webcam or a standard camera.
Once recorded, you can upload it to a video- hosting site on the internet, or send it as a video file directly to employers via email.
EXPERT TIP
When emailing your video file, choose an mp4 format, as it's the most widely used, and then export it in HD or 4K resolution. If your file is too big to email, upload it to a video-hosting platform such as Vimeo or YouTube. Then, share the link in an email.
Keep it short
The aim of a video CV isn't to regurgitate the contents of your CV. As recruiters' attention spans tend to be short when it comes to reviewing applications, keep the video to a maximum of 1-2 minutes and focus on your unique selling point. What makes you stand out as a candidate? Have a look at the job description and try to incorporate some of the key requirements into your video.
Wear clothes that are appropriate for the job you're applying for
If you're sending a video CV, it'll be the first impression an employer gets of you. As with a job interview, you'll need to choose appropriate attire. While it probably isn't appropriate to film in a T-shirt and a pair of jeans, it's also not a good idea to dress in a three-piece suit for most jobs.
Choose a good position for the camera
Make sure that you place your camera in a good position: if the camera angle is higher than your face, the employer will be forced to look down on you; if it's too low, they're forced to look 'up to you'. Neither is a good idea.
This may seem obvious, but look into the camera, as if you were addressing the employer directly as you would in real life. This is important, because if your eyes are not clearly visible and the camera is too far away, the viewer will be easily distracted by the things around you.
Record your video CV during the day for the right light
Lighting could make or break a video. Always try to record your video during the day, to make sure you have enough light and ensure that you don't have backlighting from a window as this will obscure your face.
Try to avoid filming in the evening, with the light of a desk lamp. Your face will look discoloured by the artificial light and your surroundings will be much too dark, making strange shadows appear in the video.
Clean up before you start recording
Clutter should not distract from your story in your video CV. Tidy up your desk or living room and make sure that no laundry, vacuum cleaners, toys or other clutter is in view, before you start filming.
Check the audio quality of your video
You can probably get away with a less than high quality video, but if employers can't hear you, they won't bother to listen to what you have to say.
When filming, use a microphone and sit in a quiet room where you are not bothered by ambient noise. Close windows and doors, and turn off the TV, radio, washing machine and other appliances. Also make sure you're not recording your video in a room where there are likely to be echoes.
Draw inspiration from others
You can find numerous examples of video CVs: online. Check out a few to get inspired and learn from.
If you're not comfortable with speaking on camera, you could use a mix of animation, typography and icons to illustrate your career history, as some video CVs do. Whichever format you go for, try to stay true to yourself and create a video CV that is representative of you and your personality.
Practice, practice, practice
If you've never stood in front of a camera before, it may be difficult to speak off-the-cuff. Therefore, it's a good idea to jot down a few keywords or phrases on paper. You may even want to write out the script of what you want to say to ensure you don't miss out any important information.
Then, practice, practice, practice! You'll probably have to record your video a few times to see how you come across. Maybe you come across as shy, not enthusiastic enough or too enthusiastic? Ask a trusted friend, colleague or family member for a second opinion.
A video CV is very much personal. Play around with it until you find something that works for you.
Even if you have to record your video CV hundreds of times, you will succeed in the end. Also, remember that a video CV should always be accompanied by a traditional CV so that you give employers the option to view both. Good luck!