Uploading Your CV Online
If you're looking for work, it's helpful to distribute your CV as widely as possible to increase the chances of recruiters and employers finding you and eventually landing a job. So, how do you bring your CV to the attention of recruiters, recruitment agencies and employers? What are your options and what do you need to pay attention to? Here are some useful tips.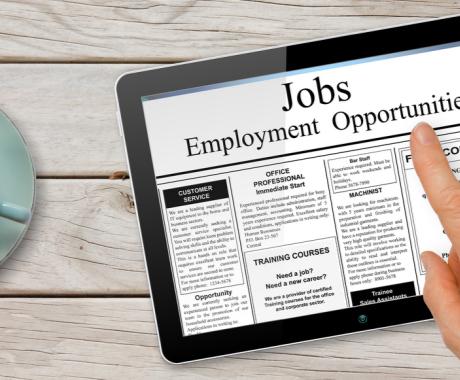 Besides applying for a job the usual way, there are other ways you can get your CV noticed. These include:
Sending a speculative application
Registering with recruitment agencies
Uploading your CV to job boards
Sending a speculative application
Sending a speculative application involves sending your CV (and a cover letter) to a company when they haven't advertised a vacancy. A big advantage of this is that you can stand out more than replying to a job posting as your CV is unlikely to get lost in a sea of applications.
You'll want to make sure that your CV reaches the right person so that it's actually read. A quick phone call to the company can give you the information you need to know. Otherwise, LinkedIn is also a valuable source of information.
Registering with recruitment agencies
Large companies and organisations, in particular, often outsource the recruitment of candidates to recruitment agencies and headhunters to save time.
Registering with a recruitment agency has a number of advantages. Large agencies tend to have hundreds or even thousands of positions open, at any one time.
The downside is that an agency could turn you down for a position based on pre-selection criteria, while you could have had a chance with the employer if you had applied immediately.
Employment agencies that specialise in temp jobs, on the other hand, tend to be more accessible because they're looking to fill positions quickly. If you're looking for a permanent job, it may still be worth submitting your CV to such agencies. Often, employers first hire through an employment agency and then offer a permanent contract if they are satisfied with you.
Recruiters also look for suitable candidates themselves through their own network. ('headhunting'). This can take place on sites such as LinkedIn. If a recruiter sends you an invitation to connect, it's a good idea to accept even if you're not in the market for a job as you never know when you might need their help.
Uploading your CV to job boards
With so many job boards available, knowing where to focus your attention can be difficult. Here are some where your CV is likely to get a lot of views:
The easiest way to make yourself known to employers and recruiters is to create a LinkedIn profile. As the largest online social network, LinkedIn has millions of users, many of which are recruiters and headhunters.
Rather than upload your CV, why not use LinkedIn to tell a story about who you are and what you're looking for in your career? This is where a grease profile summary. can help.
Your LinkedIn profile summary is the text box at the top of your LinkedIn profile, where you introduce yourself and provide a brief snapshot of your career history.
Even if you're tailoring your CV to each job you apply for, make sure that the story you tell on LinkedIn matches the one you're telling in your CV and vice versa, to avoid inconsistencies.
While Facebook is not a job site, employers are increasingly using the platform to post jobs and look for candidates. In fact, a study by Jobvite found Facebook to be the second most popular social network for recruiters.
According to Facebook, only public information in your profile will be visible by employers. However, it's worth checking your privacy settings to make there's nothing that could create a poor impression.
Alternatively, you could ask your friends and family to help you by posting a short message about what you're looking for and a link to your CV.
Reed (SEEK in New Zealand)
Reed is ideal for those looking for jobs at specific companies. You can either search by location, organisation or sector.
If you're a registered jobseeker on Reed, you can also make your CV available to be searched by thousands of recruitment agencies. You can also set up email alerts and create your own profile.
Reed also offers a wide variety of courses and training days to help you improve your skill set and make you more employable.
Indeed has a comprehensive search function, that allows you to easily sort through the jobs available, using either keywords related to the job title or the job description. This is great if you don't know exactly what you're looking for, but you have an idea of the tasks you want to carry out.
It's important to note that Indeed aggregates job postings from other sites, so it's unlikely you'll come across new jobs if you're also searching on other job boards.
Besides being a job board, Glassdoor is also an employer review site, which means you can get a feel for the company before you apply to them or attend an interview. You can also see whether your salary expectations match actual salaries.
What happens to your online CV?
Once uploaded, the information from your CV will be logged into a database. You'll also receive a confirmation email that your CV has been received.
There are numerous job boards on the internet where you can upload your CV. While you may have concerns that anyone could gain access to your CV and its contents, job boards are often secure environments, which can only be accessed with login details. Therefore, only you and potential employers can view your CV.
Some employers wait with placing an advertisement or vacancy and prefer to first look around for suitable candidates in such a job database. Furthermore, these job boards often offer the possibility to set up job alerts. This means that as soon as there is a job available that matches the keywords (job title) that you have provided, you'll be notified by email.
On some job boards, you'll automatically receive new vacancies that match your profile.
Your CV remains yours
However you send your CV out into the world, it is important that you know that you have control over who has access to it and how it is stored.
Since the introduction of the GDPR of 25 May 2018, when companies and recruitment agencies collect personal data (whether through CVs, cover letters, application forms or otherwise), they must provide the applicant with a privacy notice. This informs them how their data will be processed.
If the employer intends to store any data, they must get your consent. You have the option to request that your CV and data be destroyed by the company, recruiter or recruitment agency, should your application be unsuccessful. Use one of our resume templates to ensure a professional presentation of your skills and work experience.
EXPERT TIP
If you really want to impress recruiters, you could create a CV website. This is an interactive online CV where you showcase your skills and your portfolio (if you have one). Creating your own CV website not only gives you room to express yourself in the way you wish, but also demonstrates your technical skills and creativity. Furthermore, it's the perfect place for collecting references and testimonials. A few easy-to-use CV website platforms include: Wix, Weebly or Site123.