Including Extracurricular Activities on a Resume
Including extracurricular activities on your resume helps show potential employers that you are a well-rounded individual with diverse interests and a variety of qualities that can serve you in the workplace. Many employers are placing increasing importance on hiring individuals who will mesh well with the existing team, so they often want to know what interests you and gain insights into your personality to ensure that you'll be a good fit.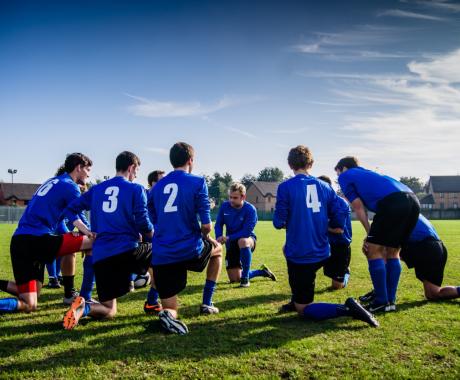 This article will cover situations where it makes sense to include extracurriculars on your resume, what types of activities are the best to include, and what they might suggest about you to a potential employer.
What Are Extracurricular Activities?
Extracurricular activities are the things that students do outside of school time or in addition to their basic school curriculum, such as sports, student government, clubs, hobbies, and so forth. Including these activities on your resume can show that you are capable despite not having much or any professional experience.
When To Include Extracurricular Activities on Your Resume
The most common example of when to list extracurricular activities on your resume is when you do not have any professional work experience, and you need to fill up space on the page. In this case, highlight your extracurriculars and demonstrate how those activities have allowed you to develop skills and qualities that are transferable to the workplace. You can add bullet points below each activity to include skills, awards, and other details.
You can also include extracurricular activities as a way to show your leadership skills.
Leadership ability is one of the most desirable qualities that you can have as a job seeker, and including activities that actually show your leadership skills in action is much more effective than simply listing 'leadership' in your skills section.
Extracurriculars can also be a way to reinforce your technical skills. For example, if you are a member of the coding club at school and you are seeking an internship or position in computer programming, employers will see that you have made an extra effort to hone your skills and that you enjoy the field enough to spend your free time learning and improving your craft.
Extracurricular Activities vs. Hobbies and Interests
The term 'extracurricular activity' is generally only used for those who are currently in school or who have recently graduated and are referring to activities they did during their education. If you are no longer in school and pursue activities outside of work, those are usually referred to as hobbies and interests. You can include your hobbies and interests on your resume if the situation calls for it.
However, you'll want to stick to one or the other - don't include an extracurricular activities section and a hobbies and interests section. If you are a student your hobbies will go under extracurriculars, and if you are out of school you generally don't need to include extracurriculars on your resume.
9 Categories of Extracurriculars
Here are nine of the main categories of extracurricular activities that are beneficial to include on your resume, and what each type might suggest about you:
1. Sports
Participating in organized sports shows potential employers that you are dedicated, know how to work as part of a team, and care about your physical health and wellbeing. You might also wish to list transferable skills like perseverance, communication, strategizing, and collaboration in association with your sports experience on your resume. Additionally, if you were a team captain, you could mention that as a demonstration of your leadership skills.
Key Skills Developed from Sports:
Self-motivation
Teamwork
People skills
Strong work ethic
Dedication
Reliability
Strategizing
Collaboration
Communication
Quick thinking
Time management
Leadership
2. Arts
Activities like theater, music, photography, and art are also excellent extracurriculars to include on your resume. These types of pursuits can show that you are creative, have a good memory, are detail-oriented, and are dedicated to improving your skills. Many artistic ventures also involve some type of public performance or showcase, which tells employers that you can present to a group and have experience with public speaking or performing.
Key Skills Developed from the Arts:
Creativity
Strong memory
Critical thinking
Presentation skills
Public speaking
Detail-oriented
Dedicated
Passionate
3. Volunteering
Volunteering allows you to give back to your community, and employers will certainly take note of your altruism and willingness to serve. Many people volunteer in niches that interest them or which they are passionate about, so the details of your volunteer work can provide additional insight into your personality.
Key Skills Developed from Volunteering:
Altruistism
Willingness to serve
Motivated
Self-starter
Optimism
Teamwork
Passionate
4. Student Leadership
Including your role in student leadership on your resume makes it clear to potential employers that you have leadership ability and that you are mature and reliable. Since most student body government positions are election-based, winning a position shows that you are a good communicator, well-liked and respected by your peers, and capable of making large-scale decisions.
Key Skills Developed from Student Leadership:
Leadership
Teamwork
Communication
Critical thinking
Persuasion
Maturity
Reliability
Fundraising
Collaboration
Decision making
Event planning
5. Studying Abroad
Studying abroad instills a sense of cultural awareness, independence, and knowledge of the world. It suggests that you are adaptable, able to overcome challenges (like language barriers, potentially), and willing to step outside of your comfort zone. Studying abroad can also be a great conversation starter and a point that might catch a hiring manager's interest. Plus, if you studied somewhere where a different language is spoken, it can help you develop strong foreign language skills quickly through language immersion.
Key Skills Developed from Studying Abroad:
Cultural awareness
Foreign language skills
Adaptability
Stress tolerance
Independence
Interpersonal skills
6. Tutoring or Mentoring
Tutoring or mentoring your peers or younger students suggests that you are a high-achiever, capable of teaching or training others, and dedicated to academic excellence. Teaching allows you to further solidify your understanding of a subject, and you are demonstrating a willingness to spend your free time helping others succeed. Plus, explaining a subject in a way that someone else can understand prompts you to consider other viewpoints, thought processes, and abilities.
Key Skills Developed from Tutoring or Mentoring:
Communication
Subject matter expertise
Teamwork
Creative thinking
Flexibility
Adaptability
Altruism
Teaching ability
7. Clubs
Many high schools have a variety of clubs such as math team, quiz/knowledge bowl, debate club, speech team, and so forth. Membership in these clubs suggests to potential employers that you are intelligent, a good communicator, able to work under pressure, a team player, and highly competent.
Key Skills Developed from Club Participation:
Subject matter expertise
Teamwork
Stress tolerance
Intelligence
Communication
Leadership
Collaboration
Competence
8. Professional Society Membership
Colleges and universities often have professional clubs, societies, or fraternities that are either specific to the school or part of a national or international association. Being a member of a society generally suggests that you are skilled and highly involved in the particular field, and that you are committed to professional betterment and networking.
Key Skills Developed by Professional Society Membership:
Communication
Networking
Subject matter expertise
Time management
9. Hobbies
Finally, some hobbies may be appropriate to include on your resume. Select hobbies to include on a case-by-case basis and only mention those that are relevant to your target position in some way. Don't include hobbies that are controversial or too out-there, as this can distract from more important information on your resume and potentially feel aggressive or insincere. On the other hand, avoid including a list of generic hobbies - make each one that you include meaningful and personal.
Expert Tip
Instead of simply listing something like 'reading' as your hobby, say that you 'enjoy reading historical fiction and contemporary memoirs by female authors.' Cerebral hobbies like chess, word puzzles, and so forth are usually safe bets to include on a resume. Of course, only include hobbies that you actually do and enjoy.
Naturally, the skills that you develop through your hobbies will vary dramatically based on the activity.
How To List Extracurricular Activities on Your Resume
If you have decided that it makes sense for you to include extracurricular activities on your resume and you've identified appropriate ones to include, here's how to add them:
In Your Education Section
If your extracurricular activities are organized through your school or are directly relevant to academics, you can include them as a subsection in your education section. For example, list any school sports, clubs, student government, etc. with your education details.
Create a New Section
If your extracurricular activities are not school-related, consider creating a new section specifically for these activities. Perhaps you compete with a local equestrian group or swim for a club team - it wouldn't necessarily make sense to list these activities under your education section.
Use Bullet Points to Highlight Skills
Regardless of whether you include your extracurricular activities in your education section or in a section of their own, you may want to use bullet points under each activity to really drive home the skills that you gained or honed from each one.
Tailor Your Extracurricular Activities Section
Tailoring your resume to each job posting can help it pass applicant tracking system (ATS) scans, score you interviews, and ultimately get you hired for your target position. As such, it's always a good idea to tailor your extracurriculars as well. Only include those that are relevant to the job or that have allowed you to practice skills that are applicable to the position.
Key Takeaways
Listing your extracurricular activities on your resume can give potential employers an idea of who you are as a person and showcase your transferable skills. Tailor your extracurricular activities to the job posting to ensure relevance and help your resume pass ATS scans. Your extracurriculars can either be placed in your education section if they are school-related or in their own section if not. Be sure to highlight the skills that you've learned with bullet points under each activity. If you are no longer in school, use a hobbies and interests section instead of an extracurricular activities section.
Need help crafting the perfect resume that highlights your extracurricular activities? Check out Jobseeker's professional resume creation tool. Simply enter in your details and easily swap between layouts, styles, and colors with just a few clicks. Then download your resume instantly and get started applying for jobs!