How to write a CV for Qatar job applications
If you're considering applying for jobs in Qatar, you'll need to make sure your CV is ready. Qatar offers various benefits to employees, including high salaries for professional roles and no personal taxes. As such, the jobs market in Qatar can be competitive and attract applicants from all over the world. The process of applying for jobs in Qatar is similar to many other countries, and as such, your CV is critical to your chances of success. In this article, we discuss how to make a CV for jobs in Qatar. We provide tips and guidelines on best practice, and what employers expect to see in your document. Read on to learn more about how to write your CV for Qatar job applications.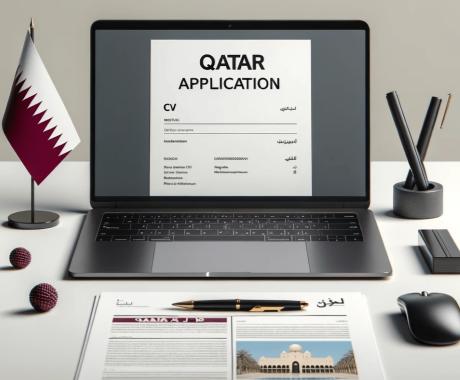 Writing a CV for Qatar
CVs for jobs in Qatar tend to follow a very similar format and structure to those in the UK and the US. You'll typically find job vacancies advertised online in English. For jobs in Qatar, you might submit your application in English, via email or using an online recruitment portal. It's also typical to send a cover letter to accompany your CV.
General CV tips for Qatar
Ensuring your CV is up to scratch and matches the conventions of the country you're applying in, is an essential step in the job application process. Follow these general tips to make sure your CV strikes the right tone in Qatar:
Make a strong first impression: the presentation of your CV is crucial to making a good first impression with employers. Make sure you use a professional CV structure and a clean design that captures the reader's attention.
Use a clear, readable font: the typeface you select can have a significant impact on the readability of your CV. Try a sans serif font such as Arial, Helvetica or Open Sans. Busy, elaborate fonts can detract from the content of the document.
Make sure your CV is the right length: In Qatar, CVs tend to run to two pages or longer. While employers in some countries prefer a more brief document, Qatari employers tend to expect more detailed documents of up to three pages.
Tailor your CV to each job application: Qatari hiring managers will favour candidates who tailor their CV to the job application. Take time to review the job description and make sure your CV highlights how you meet the requirements.
Use appropriate tone and language: Keep your CV concise and make sure you use a spellchecker before sending your CV. Use professional language, but keep it as simple as possible. Keep sentences short and use bullet points where necessary.
Specific CV tips for Qatar
Make sure your CV follows these guidelines and includes these sections, to maximise your chances of success in the Qatar jobs market:
Start with your contact information: Like most countries, CVs in Qatar start with your contact information. Add your full name in a large, clear font and underneath include your email address, phone number and address or location. You may also decide to add a photo, though in Qatar this is optional and unlikely to affect your prospects.
Add your work experience: List your relevant work experience in reverse chronological order. Use present tense when describing your current role and past tense for all previous roles. For each job, mention your title, the employer, its location and the dates you worked there. Add several bullet points for each role, outlining your duties and highlighting how your achievements relate to the role.
Include details of your education: The next CV section highlights your educational achievements. List any degrees, diplomas, certificates and any professional qualifications. Include the subject name and level awarded, the institution and your dates of study or graduation.
List your skills: Adding a list of your skills can help demonstrate how you meet the requirements of the role. You might wish to divide your skills into hard and soft skills, or skills that fulfil specific elements of the role. These could include "sales skills" or "accounting skills".
Mention other activities, interests and optional information: Depending on the role you're applying for, it might be appropriate to add hobbies, interests or volunteer work. You could also mention any languages you speak or any particular computer skills. These could help you stand out from other applicants.
Expert Tip:
Although Arabic is the official language of Qatar, it's common to submit CVs for Qatar jobs in English. Qatari employers might favour more formal CVs that include detailed insights on your work experience, achievements and skills, so it's acceptable to submit a longer CV that fully demonstrates your suitability for the role.
Qatar CV Work Experience
The work experience section of your CV is the most important part for Qatar job applications. It allows you to show hiring managers how you fit the job description with examples of real achievements in work.
The STAR method is a useful way of demonstrating your work experience. STAR stands for "Situation, Task, Action, Result". For each example of work experience, indicate the situation – the problem or challenge posed. Then explain the task – your responsibilities in addressing the challenge. Following that, outline the action – what you did, with a particular focus on elements you were directly responsible for. Finally, highlight the result – mention the outcome, referencing quantifiable figures if possible.
Here's an example of a work experience entry that uses the STAR method:
Research Manager, Orbital Insights Ltd, June 2017 - Present
Delivering a large-scale quantitative research project for a public sector client, delivering 10,000 face-to-face interviews annually, through management of a team of 50+ interviewers nationwide
Designing complex questionnaires to address sensitive personal issues relating to health, employment and personal finances, exceeding the required response rate of 60%
Managing an annual project budget of £1.1 million, increasing efficiency through pilot projects, regular reviews and specialist working groups, to maintain at least 35% profitability
Qatar Resume Education
The education section provides space for you to list your qualifications and any professional certifications. Make sure you keep this section concise and only mention relevant qualifications. This might mean focusing on your most recent or highest qualification, or whatever is most relevant to the role. For each entry, add the course title and award level, the institution and your dates of study or graduation.
Here's an example of an education section for a Qatar CV:
MBA, Durham University Business School, 2019
BA (Hons) Business Management (2:1), University of Greenwich, 2015
Formatting Your CV/Resume for Qatar
There are two main CV formats to choose from. The most commonly used for CVs in Qatar is the chronological or traditional CV. This places your work experience at the forefront, with your education and skills following. The second format is the skills-based, or functional CV. Applicants who lack relevant work experience might use this format, as it focuses more on skills than work history.
It's typical to list your achievements and experience in reverse chronological order. This means listing your current or most recent experience first, followed by each subsequent experience. For example, in your work history, start with your current role, then follow this with your second most-recent role, and so on.
"Qatari employers tend to favour a detailed, professional document, so make sure you use a clean CV design and aim for a length of between two and three pages."
CV for Qatar: Crafting a Winning Resume for the Middle Eastern Job Market
Qatar, a flourishing nation in the Middle East, has become a hotspot for professionals from around the world. Its rapid economic growth, world-class infrastructure, and massive projects leading up to events like the FIFA World Cup 2022, have opened up a plethora of job opportunities. However, to make a mark in the Qatari job market, one must tailor their CV to meet specific regional expectations.
Taking the time to tailor your CV for job applications in Qatar can make all the difference to your chances of success. Qatari employers tend to favour a detailed, professional document, so make sure you use a clean CV template or resume template and aim for a length of between two and three pages. Remember to keep the specific job and company in mind when crafting your CV, as this will make a greater impact with hiring managers.
If you're searching for help writing your Qatar CV, you can search our CV examples here and create and download your own professional CV. Sign up with Jobseeker today to get started.