Best Resume Formats: 3 Professional Layouts
There are many different ways that you can format a resume, but there are three main formats that are optimized to pass Applicant Tracking Systems (ATS) and actually get your resume into the hands of the hiring manager, and ultimately get you hired. The three best resume formats are reverse chronological, functional, and combination.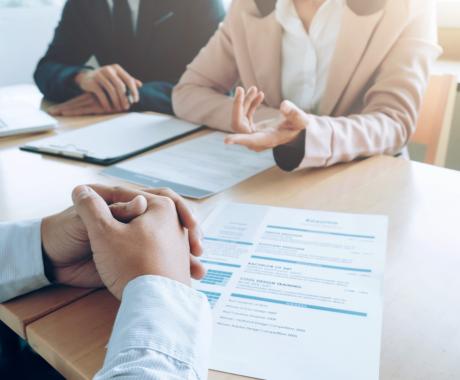 This article will cover the specifics of each type of resume format to help you decide which one is best for you, and it'll include some general layout tips to help your resume stand out from the crowd.
What Are The Most Effective Resume Layouts?
The three most effective resume layouts are reverse chronological, functional, and combination. Each format has its own benefits and works best for different job search scenarios as you'll see over the next few sections.
Resume Format #1: Reverse Chronological
A reverse chronological resume format is traditional and the most commonly used. This format highlights your work experience, generally listing your previous positions in, as the name suggests, reverse chronological order so the most recent one is at the top.
Recruiters are very familiar with this layout and it highlights your past work experience in a simple, easy-to-read format. A reverse chronological resume should include the following sections, in this order:
For each job entry in your work experience, list your position, the company's name, and the dates that you held that job title. Under each job, use up to five bullet points to give the hiring manager an idea of what you did in the position, focusing on quantifiable achievements over responsibilities. For example, say that you "increased company revenue by 50% in one year" as opposed to "handled company's revenue streams."
Be selective with your bullet points - there's no need to include absolutely everything. Instead, select key metrics to highlight, targeting the specific language of the job listing that you are applying for.
Although it's extra work, tailoring your resume to each job description will help you stand out from the crowd of generic resumes and show the hiring manager that you paid attention and took the time to read the description thoroughly.
Who Should Use a Reverse Chronological Resume Format?
A reverse chronological resume format is a great option for the majority of job searchers, especially if your employment history demonstrates a consistent career path as you advance within your industry. For example, if you started your career as a marketing intern and have worked your way up to a marketing director position, a reverse chronological resume format would beautifully showcase your work experience. This format is often used by those who are applying to a new position that's within their industry or in a similar field to the majority of their previous experience.
You may wish to use one of the other two formats if you have gaps in your work history, you are just getting started in the professional world (i.e. you are a student or a recent graduate), your work history spans multiple industries, or if you are looking to make a career change.
Resume Format #2: Functional
A functional resume format places more emphasis on your relevant skills than on your work experience. This resume layout is sometimes also called skills-based, and it should include the following sections:
A header that includes your name, address, and contact information
A resume summary statement or a resume objective
A summary of your relevant skills
Work experience, presented as a list of past roles and typically not including date ranges
Your education details
Skills, interests, languages, volunteer experience, or other optional resume sections
If you do not have a lot of work experience, opt for a resume objective over a resume summary. In your objective statement, explain what your goal position is, why you want to pursue that career path, and what skills you possess that make you a good fit for the position.
Expert Tip
For your skills summary section, pick up to five skills that are most relevant to the job posting - again, be sure to tailor your resume to each position. Use bullet points under each skill to share examples of how you apply these skills in a professional setting and use quantifiable metrics whenever possible.
Who Should Use a Functional Resume Format?
A functional resume format can be helpful for students or recent graduates whose work experience is sparse or non-existent, freelancers or professionals in creative industries who have varied work experience but solid portfolios, those who have multiple gaps in their work history, armed forces veterans who are transitioning into civilian professional roles, or those who formerly held high-level positions and are now applying to lower-level roles.
However, unless you fall into one of the above categories, you'll likely be better off using one of the other formats as recruiters generally dislike the unnecessary use of functional resumes and there's a higher chance that they may not pass an ATS scan.
Resume Format #3: Combination
Finally, the combination or hybrid resume format, as you may have guessed, uses elements from both the reverse chronological and the functional resume formats. It's often presented in two columns, with one focusing on skills, work experience, and education, while the other column contains personal information, skills, languages, and so forth. Regardless of how you decide to structure a combination resume, it should include the following sections:
A header that includes your name, address, and contact information
A summary of your relevant skills
Work experience
Your education details
Skills, interests, languages, volunteer experience, or other optional resume sections
The highlight of this resume format is the skills summary, which should be placed at the top just under your header. In this section, list your relevant skills and then share examples of your professional achievements that prove you have the skills. This allows you to showcase a wide set of skills that you've gained from various positions and back them up with concrete work experience.
Who Should Use a Combination Resume Format?
A combination resume format is an ideal option if you have plenty of relevant experience but gaps in your work history, and you are targeting a very niche position. However, this is the most difficult type of resume format to create successfully, so unless you have a very unique employment history or you are applying for a highly specialized job, you may be better off sticking with the traditional reverse chronological resume format.
Tips For Formatting Your Resume
Regardless of which of the three resume layouts you select, there are several formatting guidelines to keep in mind:
Keep It Short
Limit your resume to a single page, unless you have more than 10 years of experience in your field. In that case, you can expand your resume to no more than two pages. Recruiters will likely only spend a few seconds scanning your resume, so they certainly don't want to read a novel-length document.
Use Standard Margins
One-inch margins all the way around are standard for a resume. If you need to squeeze one more line of text onto your single-page resume, you can change to 0.75-inch margins, but any smaller margins may result in text being cut off when you print your resume or save it as a PDF, and it will be obvious that you are trying to include too much information.
Choose a Professional Font and Color Scheme
A resume is a professional document, and although you do want yours to stand out from the crowd, resist the temptation to use loud colors and off-the-wall fonts. Pick a font that's easy to read and looks professional, like Ariel, Helvetica, Calibri, or Garamond. You can use text colors other than black, but be sure they are still professional and legible.
Use Clear Section Headers
No matter how you decide to structure your resume, use clear section headers to make it obvious to recruiters and ATS what information they are looking at. Use the standard heading verbiage to ensure your resume passes the ATS scan, such as 'work experience' rather than 'past employment.'
Use Bullet Points
Again, hiring managers are likely only going to spend a few seconds looking at your resume initially, and a wall of text will be overwhelming. Be strategic with white space, headings, and bullet points to ensure that employers can get the information they want as quickly as possible.
Spell Check Your Resume
This is an obvious one, but be sure to spell check your resume both with your computer's spell check program and by hand. Nothing is more unprofessional than spelling mistakes on your resume.
Save Your Resume as a PDF
Finally, save your resume as a PDF and title the file 'firstname-lastname-resume' so there's no question what the file is. Saving it as a PDF ensures that nothing will happen to your careful formatting when a recruiter opens it.
Key Takeaways
There are three main different resume formats that are effective for winning interviews and ultimately getting hired for your goal position. Each one has its own merits and is best-suited for specific instances. Evaluate your work history and professional experience to determine which is right for you.
Need more help with your resume layout? Check out Jobseeker's resume builder tool to test out a variety of formats and modern, eye-catching templates. Simply enter your information and then easily change the font, text size, colors, or format of your resume with a single click.